Call 315.637.0605 Rev. Heath Can Help!
Hi! I am Michael Heath and this is the Pine Ridge Pastoral Counseling Web Page. Pine Ridge is a place for folks who are looking for the best mental health care but who are turned off by large clinics or impersonal facilities.
Since 1994, Pine Ridge has offered a distinctive and more personal alternative for mental health needs while providing a comprehensive range of psychological services to help individuals, couples and families deal with a wide range of emotional, relational, crisis related, life phase and spiritual problems.
Since I am both a state Licensed Psychotherapist and a nationally Certified Pastoral Counselor, I offer a comprehensive therapeutic approach which can relate to both the psychological and spiritual dimensions of life's difficulties .
This web site is a great place to learn about my areas of expertise and to find answers to questions you may have concerning psychotherapy, marriage counseling, couples counseling, and other counseling related issues. If you can't find what you're looking for, please contact me and I'll be glad to help.
Serving the people of Central New York since 1978!
Latest Blog Articles
By Rev. Michael Heath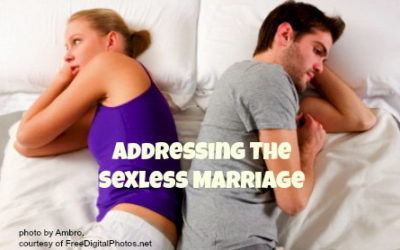 Recent studies have repeatedly shown that Americans are having less sex. One statistic reveals that over half of single folks under forty haven't had sex in a year. Factors such as work-related anxiety and financial worries leave many singles either too busy or too stressed out to bother with sex.
Shockingly, more and more married couples are reporting that they aren't having sex either. Sexless marriage hasn't been talked about much in the past but, lately, it's attracting more clinical attention because the fact that couples aren't having sex is emerging more frequently with patients who are seeking help for other issues.
Sadly, many sexless couples don't seek help because they are discouraged and feel that there is nothing that can be done. Unfortunately, untreated, the problem only becomes worse and worse. While sex may not be the most important thing in life, it's probably in the top ten. Therefore, couples need to know that sexual problems in marriage, while difficult to talk about at first, are very treatable.
Here are some important facts about sexless marriages:
read more